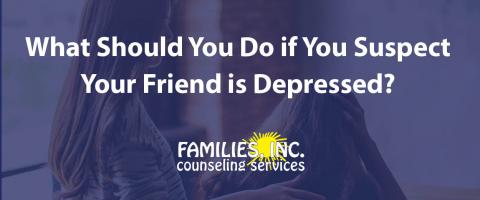 Depression is more common than you may think - but that doesn't necessarily mean it's easy to talk about. For generations, stigmas around mental health have led people to keep quiet about their struggles with anxiety, depression and other forms of mental illness. Today, the conversation is changing for the better.
It's becoming easier than ever to open a dialogue about what you or a loved one are going through. Sometimes just giving the floor to someone to vent their frustrations can go a very long way. Offering an outlet and lending an attentive ear is a great means of showing that you care and are there to help.
But Do I really Know Someone with Depression?
The chances are overwhelmingly high that someone you know is or at some point has struggled with their mental health. But if they're the ones suffering and you're only a bystander, is there really anything you can do? Yes, absolutely.
Whether it's a distant friend, loved one or a close family member, there are ways that you can demonstrate your support and help them along their path to recovery.
However, it's important to recognize that help is not always welcomed, and it may not always be appropriate to reach out or intervene. That being said, small gestures can yield big results. Your involvement can range from something as subtle as a warm exchange of words to a more direct approach that involves facilitating arrangements with a professional.
Depression can be incredibly isolating and make one feel as though there's no one on their side. Making an effort to show you care is sometimes healing in itself.
Whatever your level of participation may be, a great first step is being able to identify some of the telltale signs of depression.
Common Symptoms of Depression
Symptoms of depression can manifest in many different forms and levels of severity. Here are some warning signs to take note of:
Feeling withdrawn or sad for more than 2 weeks
Drastic mood changes
Drop in productivity and overall performance at work or school
Difficulty starting or maintaining relationships
Disruption in sleep patterns – both oversleeping and insomnia
Significant change in appetite or weight
Excessive use of alcohol or drugs
Extreme risk-taking behavior
When is it Time to See a Therapist?
While we should do all that we can to support our friends and loved ones that are struggling with mental health, there is a point where seeking professional help may be the best way forward. Encouraging them to speak to a therapist or a mental health specialist can be the nudge they need to take these issues seriously and set out on their path to recovery.
If you or a loved one are experiencing symptoms of depression, anxiety or any other mental health disorders, consider speaking to a therapist or related professional.
Our friendly and compassionate mental health experts at Families, Inc. are here to help. Give us a call or visit us at one of our 11 local clinics in Arkansas. Together, we can help you enjoy a healthier, happier life.