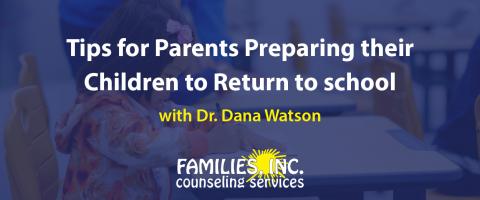 We've talked many times since March about all the anxiety surrounding Covid 19 and ways we can deal with that anxiety for ourselves and how we can help children cope better. I'm guessing it's pretty normal for us parents to be nervous about heading back to school?
Every parent I know – and I am confident in assuming this is a worldwide concern for parents – we are all grappling with our anxiety and worries which are certainly exacerbated by the many unknowns that still linger about the virus and its effects and fears about our children's and family's safety.
I am betting you're right. Worldwide, parents are making so many of the same decisions – whether to send their children back to school, what to tell them, and are we making the right decisions.
Right. And I've seen many parents already decide on virtual learning. And while safety may be less of an issue for these students, now they'll be faced with other unique concerns about how to teach their children, how to manage their day, how to juggle jobs and schedules that don't make virtual learning easy, and of course some have children who learn differently and will need specialized instruction. And on top of all of these concerns, they'll have to also manage frustration within themselves, with their children, maybe with a spouse. … and the children will likely have some feelings about not returning to school, and missing their playmates and teachers.  I would encourage them to take advice and guidance from their school and then just prepare the best way they can to do the best job they can.
You mean don't worry so much about if they're doing it right or if their children are falling behind?
I mean give yourself a break. This is a worldwide pandemic. We are all making the best decisions we can make at each given moment and with the information we have.  If your heart and head are telling you virtual learning is the way to go, then get behind your decision and start preparing your children for that, create a space in your home and a daily schedule – to the best you are able to do so.
If you make the decision to send your child back to school in person, then get behind your decision and start preparing your children for what school will be like, the safety expectations, the differences they may see and feel, and discuss how the changes might affect them.  Most of this information has been addressed on the school district's website, or will be addressed at Open House.
It's a lot think about, even if you keep your children home. It can be a really stressful no matter which way you go. I think the demands and the expectations can feel overwhelming for a lot of people.
Yes! One of the most important things I want to get across to these parents is this: You are not a superhuman. You are not expected to be a superhuman, or to have all the answers or to single handedly teach physical science, algebra, or a foreign language. Please know that no one is holding you to an unrealistic standard, no matter which road you choose. In fact I am begging parents and caregivers to focus their emotional and physical energy toward keeping themselves as calm and as resilient as they can so that they will be in a better emotional space for staying open minded, navigating changes successfully, and remaining emotionally and physically healthy through the next 6 months to a year. We are, in many ways and some of us to a much greater extent, still in survival mode from March. We have to acknowledge the emotional and physical weight of this and reset our expectations of ourselves and our children. And we have to learn how to stop when we're overwhelmed and reset ourselves into a more calm and healthy state. And if we share this tool with our children, we can teach them an incredibly valuable life skill that will serve them well as they grow. 
I like that. It actually does make me feel better when I hear you say "stop and breathe a little. Give yourself a break."
Taking care of ourselves first so that then are able to show up for people we love is one of the best things I get to teach people.  The other best news is that we as parents and caregivers are already equipped with all that we need to help our children have a much smoother return to school.
I'm pretty sure most parents would totally agree that our children mirror what they see from us (for better or worse! Lol) , so we have to always remember attitude, our words and behavior, and even our nonverbal behavior can influence their feelings, their thoughts, and what they say about returning to school. So, it is important that we send both direct and indirect messages that the staff and administration and teachers and bus drivers and maintenance and cafeteria workers have all prepared for months for the safest reentry possible. Let them know that many of these same adults have their own children in the schools. And they're going to do everything they can to keep our children, their children, and themselves safe. So when I say "we're all in this together," I really mean it! And It is our responsibility to ensure that our children feel safe and in very good hands as they return.
So what can parents start doing now if they're planning to return their children to school?
We have a few more weeks until school starts. I encourage parents to use this time to have all of these conversations with children and also discuss the things that children can do to stay safer for themselves. This can give them a sense of control and reduce their anxiety. We can begin to teach our children how to wash their hands appropriately, about physical distancing, and not to share food or drinks. I know masks are still a bit of a debate for some, but just like children do not want to wear shoes for the first time when they are infants, getting used to wearing a mask will also take some time. I would suggest that families start with wearing masks for short activities during the day or when they run errands so the children can get accustomed to it, and remember that, when all else fails, reward systems are also usually very effective. Reward them by engaging in their favorite activity with them or by having "challenges" as to who can wear them the longest.
And I guess we need to just keep talking to them  about it as the year approaches, right?
Another valuable life skill you can teach your child is how to express their thoughts and feelings. We teach them how to share and hear others by doing it every day to show them that these sharing conversations are important. You can use this topic every day as an opportunity to sit down with your children, share your thoughts and feelings, and encourage them to express their thoughts and feelings. Teach them that they have a voice, honor their concerns, and create a space for dialogue between you that will last their whole lives.
If parents need some emotional support or guidance they can reach out to Families, Inc..