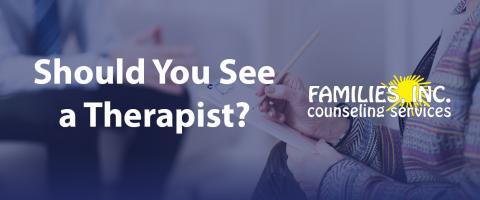 Many people struggle with depression, anxiety and other forms of mental illness. In fact, it's probably more common than you think. The CDC (Centers for Disease Control and Prevention) conducted a study on symptoms of anxiety or depressive disorder found amongst American adults during the pandemic. They found that from August 2020 to February 2021, 41.5% of adults had experienced recent symptoms of anxiety or depression. 41.5%!
If you've been experiencing issues with mental health, it's important to remember that you're not alone. We live in very trying times, but the culture at large is shifting in the direction of acceptance and compassion when it comes to addressing these hardships and seeking professional help.
Mental health doesn't have to be as much of a mystery or taboo topic as we've been led to believe. Meeting with a therapist can not only lessen symptoms in the short-term, but help us to develop tools and resiliency that last long after the counseling has ended. 
Therapy is a long-term solution that aims to build up the power and confidence needed to identify positive paths forward in our lives. 

Deciding When To Seek Help
One reason that may be contributing to the high figure above is that it can be rather difficult to diagnose mental illness. So, how do you decide if you need to see a therapist? The good news is that while you may not be able to be directly tested for mental illness, there are warning signs you can look out for, for you and your loved ones.
These signs include, but are not limited to:
Feeling withdrawn or sad for more than 2 weeks
We all get down from time to time, but when sadness or feelings of despair linger for more than two weeks, it's a good idea to speak to someone about it.
 
Drastic mood changes
Very strong feelings of fear or worry that seemingly arise out of nowhere are common signs of anxiety and other points of concern.
 
Drop in productivity and overall performance at work or school
Completing routine tasks may become difficult, as depression and anxiety can take a toll on concentration, memory, and motivation. Similarly, you may find yourself not enjoying the activities that once brought you joy.   
 
Difficulty starting or maintaining relationships 
This can apply to romantic partners as well as cultivating relationships with family, friends or co-workers.
 
Abrupt changes in sleep patterns
One who is anxious may have trouble getting to sleep, while someone who is experiencing severe depression may feel as though they never want to get out of bed. Both can be very disruptive in everyday life and cause a chain of negative consequences.
 
Significant change in appetite or weight
Overeating is a common symptom of depression, as is a severe loss of appetite.   
 
Suicidal thoughts or plans
If you or a loved one are having suicidal thoughts, you should contact a mental health professional immediately. The National Suicide Prevention Hotline is available 24/7 for immediate help at 800-273-8255.
 
Excessive use of alcohol or drugs
It is very common to lean on substances as a coping mechanism. However, this often creates more issues in the long-run. 
 
Extreme risk-taking behavior
A disregard for one's own well-being due to mental health issues can lead to high-risk behavior. This can be very harmful to the individual and others. 

It is a very common dilemma to want to improve yourself and your life but not know how to take the first steps. Speaking to a therapist can shine a light on unconscious behavioral patterns and help to break free of them. This in turn can lead to positive changes in relationships with others as well as with yourself. Healthy habits tend to continue to develop on their own accord, reinforced by the foundation that has been laid from the initial sessions with a mental health expert. There is hope. There is a positive path forward. 
If you or a loved one are experiencing symptoms of anxiety, depression or any other mental health disorders, consider speaking to a therapist or related professional. 
Our friendly and compassionate mental health experts at Families, Inc. are here to help. Give us a call or visit us at one of our 11 local clinics in Arkansas. Together, we can help you enjoy a healthier, happier life.