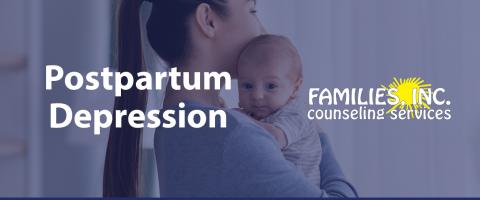 Postpartum depression affects women who have just given birth and can involve moderate to severe cases of depression or anxiety. Typically, this condition arises due to a combination of sudden changes in the mother's hormonal environment, challenges adjusting to motherhood, fatigue and several other underlying causes.
With the birth of a child comes a surprisingly mixed bag of emotions. From overwhelming joy to anxiety or extreme feelings of distress, it's not always as simple as we may expect. 
According to MGH Center for Women's Mental Health, roughly 85% of mothers experience some sort of mood disturbance during the first two weeks after delivery. Most commonly, these women experience what is known as "baby blues," which may involve sudden bursts of emotion, mood swings, bouts of uncontrollable crying, insomnia, trouble concentrating, low appetite, and other issues. 
These symptoms typically arise within 2-3 days after childbirth and sometimes last up to 2 weeks. For about 10 to 15% of new mothers, these difficulties persist for longer periods and increase in severity over several weeks, months or even up to a year. These more serious cases are categorized as postpartum depression. 
A very rare, though serious condition develops in less than .2% of new mothers called postpartum psychosis. Typically, this represents a form of bipolar disorder and involves manic episodes, delusions and hallucinations that pose a danger to the baby and mother herself. 
Those that have a history of depression or bipolar illness are higher at risk, though recent stressful events, lack of social support or marital problems also make one more susceptible to developing postpartum depression.   

Symptoms of Postpartum Depression
Feelings of depression – loss of interest or pleasure in activities that used to evoke joy
Severe mood swings
Crying spells
Difficulty bonding with newborn child
Insomnia or oversleeping
Low appetite or overeating
Extreme fatigue
High levels of irritability 
Brain fog – inability to concentrate or make decisions
High levels of anxiety, panic attacks
Negative thoughts and fears about being a bad mother 
Suicidal thoughts – in more severe cases

What to Do if You Think You May Be Experiencing Postpartum Depression
If you or a loved one are experiencing symptoms of postpartum depression that persist for longer than two weeks, you should consider speaking to a healthcare provider. A professional evaluation is necessary to determine an accurate diagnosis and create an effective plan for your recovery. 
Seeking treatment in a timely manner can be an effective approach to managing symptoms. Left untreated, they may remain present for months on end and increase in severity, significantly diminishing your quality of life.  
Research has shown that cognitive-behavioral therapy (CBT) and interpersonal therapy (IPT) are both effective approaches to treating postpartum depression. CBT involves regularly working with a therapist on an ongoing basis, while IPT entails a more intensive period of therapy for 12-16 weeks. 
Medication can also be prescribed for more severe cases and can be used in conjunction with forms of therapy. 

If you would like to speak to someone about postpartum depression or any other mental health issues, our friendly and compassionate experts at Families, Inc. are here to help. 
Give us a call or visit us at one of our 11 local clinics in Arkansas. Together, we can help you enjoy a healthier, happier life.