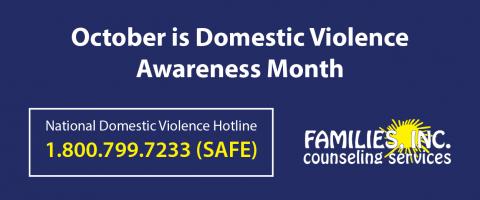 October is Domestic Violence Awareness Month. Since 1987, it has served to bring together individuals and organizations that are working to prevent and raise awareness of domestic violence. Huge strides have been made over the last 3 decades to protect victims, but there is still much progress to be made and many more people to be helped. 
According to the National Coalition Against Domestic Violence, roughly 20 people are physically abused by an intimate partner every minute in the United States alone. This staggering number may be hard to believe, but it serves to show that instances of abuse may not always be so plain to see. Unbalanced power dynamics in relationships often operate below the surface and can appear to be non-issues to the outside world.
It's important to remember that anyone can be an abuser regardless of their sex, race, socio-economic standing or general background. "1 in 3 women and 1 in 4 men have experienced some form of physical violence by an intimate partner" states Project Sanctuary, an organization that provides support to victims of domestic abuse and sexual assault. That being said, in the majority of cases the victim is a woman and the perpetrator a man. 

Common Traits of Abusers
There are many shared characteristics amongst abusers. One of the most recurring traits is the tendency to downplay the seriousness of their acts of violence. They will deny the negative consequences placed on the victim and members of their family, allowing for cycles of abuse to continue.
Moreover, there is almost always an excuse for transgressions against their partner. They may blame it on stress, alcohol or other substances - but rarely, if ever, acknowledge the misdeeds as being due to their own shortcomings. Responsibility is deflected.    
It is also common for the abuser to have low self-esteem. He or she may appear to operate well in the outside world, but feel inferior and useless deep down. 

Warning Signs
As we've mentioned, it can be difficult to determine if one's behavior is in fact abusive. Whether you are experiencing it firsthand or observing cycles of abuse in someone else's relationship, there are common warning signs that are worth taking note of.
Extreme jealousy: A tendency to be possessive over one's partner and actively control their lives. This may include regularly accusing their partner of flirting with someone else or having an affair, regardless of the evidence.
Unpredictability: Randomly lashing out verbally against one's partner and then acting extremely compassionate soon after. 
Cruelty toward pets or children: Inflicting physical or emotional pain upon children or pets that are generally defenseless.
Public or private humiliation: Demeaning one's partner at home or in public places. This sometimes involves coming to their place of work and harassing them in front of coworkers and customers.
Domestic abuse is by no means an easy issue to deal with or even talk about. Domestic Violence Awareness month is a great time to give extra attention and consideration to these topics. We can educate ourselves and love ones, in turn raising awareness and offering protection to those that need it. 

For anonymous, confidential help available 24/7, call the National Domestic Violence Hotline at 1-800-799-7233 (SAFE) or 1-800-787-3224 (TTY) now.