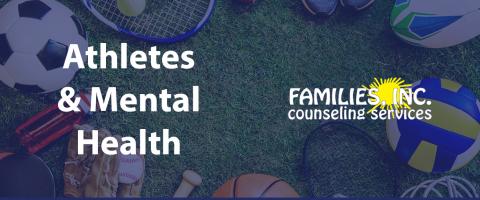 The life of an athlete can be very glamorous and rewarding, offering a great deal of benefits and fulfillment. However, operating within a highly competitive and demanding environment poses many challenges that are often overlooked. 
Mental health is traditionally a taboo subject in the world of sports, making it difficult for players to reach out for help or even admit to themselves that something is wrong. 
According to the American College of Sports Medicine, 35% of elite athletes struggle with depression, anxiety, eating disorders or burnout at one point or another. All things considered, 1 in 3 people is a staggering number and deserving of our consideration.
Fortunately, in recent years there's been an increased acknowledgement of the hardships faced by competitive athletes. More and more players are speaking out about mental illness, and seeking help is increasingly seen as a sign of strength rather than a weakness. 
Common Signs of Mental Distress
Here are some common symptoms that may indicate you or a teammate are dealing with a form of mental illness:
Low energy levels
Change in eating habits
Prolonged periods of sadness
Drop in motivation and productivity
High irritability 
When "Walking it Off" Isn't Enough
Athletes are known to be the strong warrior types that don't ask for help. They're expected to persevere through whatever setbacks and difficulties they're faced with throughout a season, or even a whole career. But in the end, even superheroes need help from time to time. 
When a runner pulls a hamstring, no one will argue that time off and rehabilitating exercises are necessary for a proper recovery. Dealing with a form of mental illness is no different. Even though the symptoms may not be visible, they can be just as debilitating as a physical injury. 
Take Time for Yourself
Whether you're dealing with depression, anxiety or a related issue, it's important to take time away for yourself not only as a means of recovery, but also as a preventative measure. Just like stretching before physical exertion, it's beneficial to check in on your mental health on a regular basis, rather than waiting for things to reach a boiling point.
Four-time Olympic gold medalist, Simone Biles, is one of many notable athletes to recently speak out on this topic. "Put mental health first, because if you don't, then you're not going to enjoy your sport and you're not going to succeed as much as you want to" she noted as she stepped down from several Olympic events. 
It's Okay to Ask For Help
Don't forget that it's okay to ask for help. If you, a teammate, or loved one are experiencing symptoms of anxiety, depression or any other mental health disorders, consider speaking to a therapist or related professional. 
Our friendly and compassionate mental health experts at Families, Inc are here to help. Give us a call or visit us at one of our 11 local clinics in Arkansas. Together, we can help you enjoy a healthier, happier life.