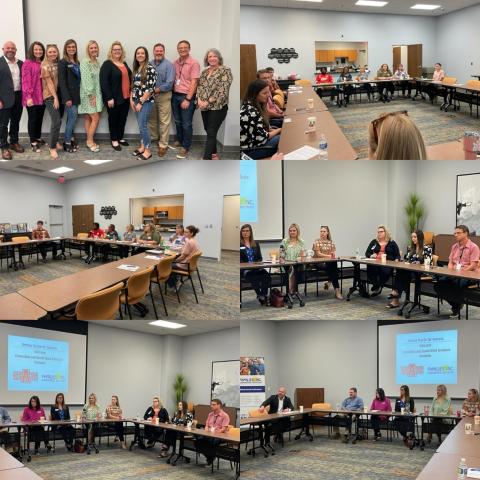 Recently, we hosted our 2nd Annual "Setting You Up For Success" event where we celebrated each student's hard work and gave them an opportunity to ask questions from our panel about starting a career in mental health therapy. Each panel member also provided the soon-to-be graduates an important tip for them to use as they pursue their forever career. We discussed a variety of topics that included company culture, benefits, being ready, burnout, and much more. 
Our panel included CEO Mark Thurman, Director of Quality Assurance and LPC Amber Gonzales, Director Human Resources Sherri Harp, HR Generalist DeShawnna DeFord, Director of Clinical Operations and LPC Haley Thomas, Jonesboro School-based Supervisor and LCSW Destiny McGee, Jonesboro Outpatient Clinical Supervisor and LPC Jason Lewallen, Jonesboro MHP, LAC Kelsey Brents and Piggott MHP, LMSW Brent Ezell.
Thank you to all that attended and to the ASTATE Counseling and Social Work program. Special thanks to Director of Marketing Dawn Layer for her help with the event.
Great questions from everyone! We look forward to this event next year and congrats to all the 2023 graduates and those who will graduate in 2024! Job well done!